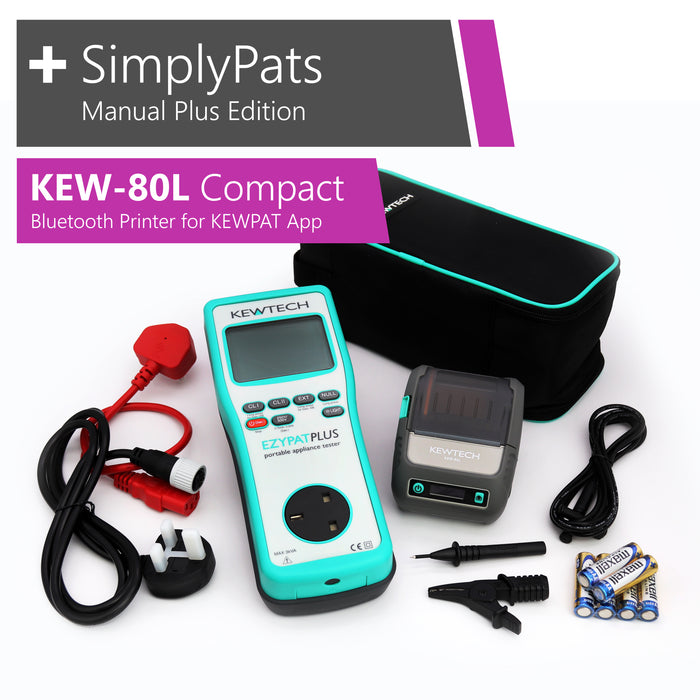 KEWTECH EZYPAT Plus - KEW-80L Compact Bluetooth Printer for KEWPAT and SimplyPats Manual Plus Edition
SKU
KEWEZYPATPLUS-KEW80L-SPSMP
Easy to use Battery and Mains Powered PAT Tester which displays Test results on a large easy to read display. This is a great all round choice for for testing a wide variety of Appliances, and also has the option of performing a Run Test using Mains Power on both 230v and 110v Appliances (110v Transformer needed for 110v Tests).

KEW-80L Compact Bluetooth Label Printer - KEWPAT Compatible mobile device required
The KEW-80L Bluetooth Label Printer has been designed to be compatible with the Free KEWPAT App for iOS and Android, and will require that the device has Bluetooth connectivity.

The KEW-80L offers a great PAT Test Label printing solution when used with our compatible Polypropylene 39mm x 25mm Label Stock, which will allow you to quickly produce excellent quality PAT test Labels at time of test via your iOS or Android device running KEWPAT App.

1 x Roll of Polypropylene Labels included (300 Labels Per Roll).
Additional Rolls can be purchased via our Website.

SimplyPats Manual Plus Edition Software for Windows PC.
Data Management, Reporting and Certification Software for Windows PC, capable of Downloading and Importing data from KEWPAT.

Single User Licence.