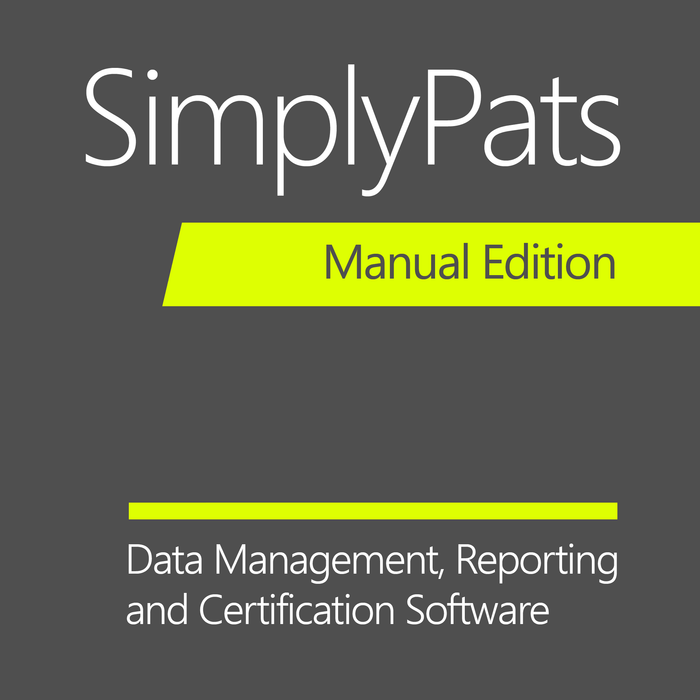 SimplyPats Manual Edition
SimplyPats Version 7 Manual Edition supports the Manual Entry of Test Data only and comes as a Single User Licence.
Only available as a Digital Download.
Single User Licence for Microsoft Windows PC only.
This version does not have the ability to download or import data from your PAT Tester or any Android or iOS Apps developed by SimplyPats such as KEWPAT App. (please see SimplyPats V7 if you require Data Download from PAT or Data Import from PAT support - Or SimplyPats V7 Manual Plus Edition if you only require the Import of data from KEWPAT App). Other features or Import/export options may also not be available or restricted.
Cost effective PAT Software solution for those customers that do not require or do not have the ability to download data from their PAT Tester.
Extensive Reporting functionality, PAT Data Management and Invoicing.
Important information relating to orders.
Please note that all orders are processed manually, if you are placing your order out of office hours there will be a delay in receiving your Digital Download link.
SimplyPats is only compatible with devices running Microsoft Windows.

(Microsoft Windows 11 or 10 recommended - older versions may be compatible, but may not be supported by us)