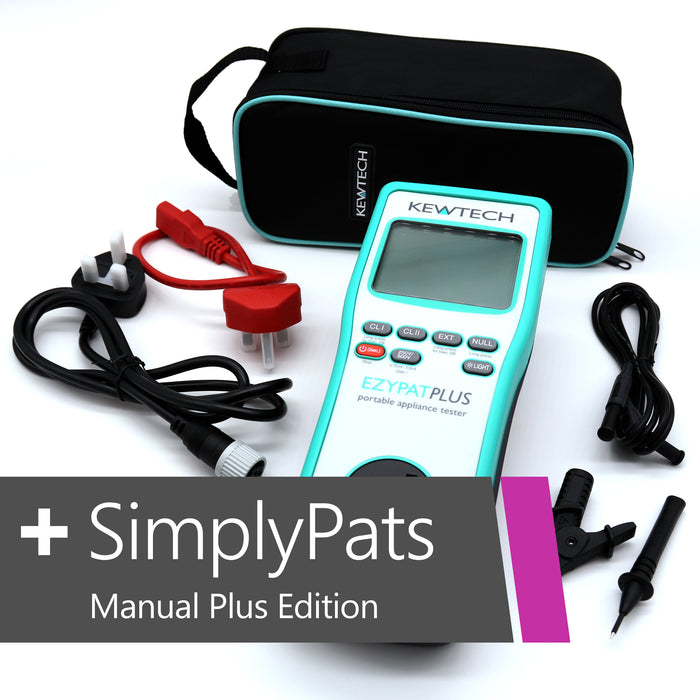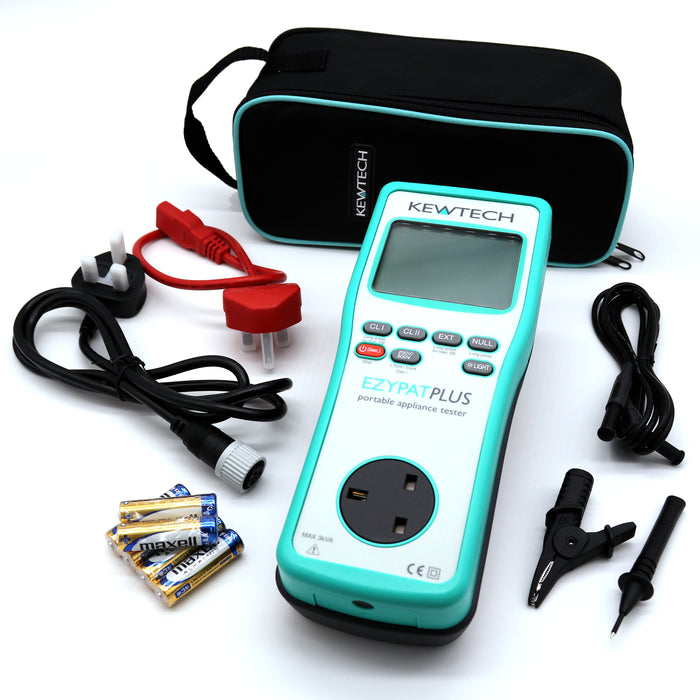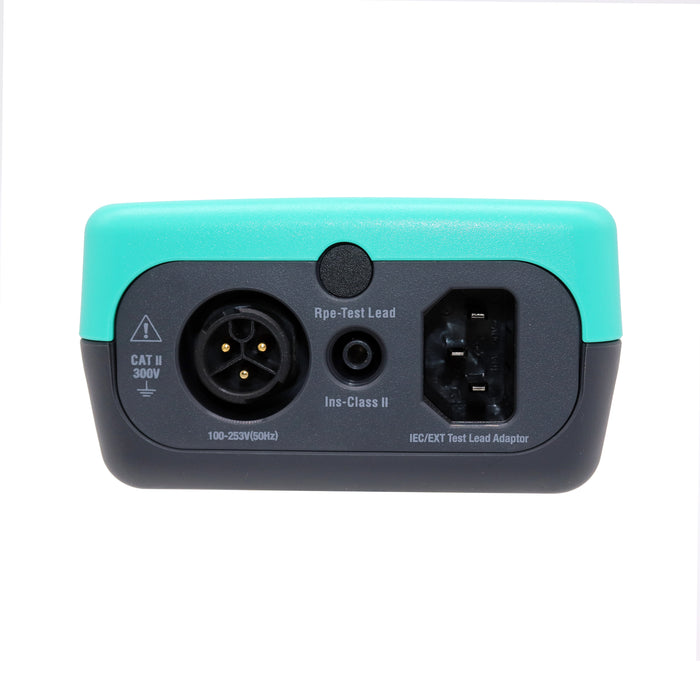 KEWTECH EZYPAT Plus and SimplyPats Manual Plus Edition
The Kewtech EZYPAT PLUS has the same features as the EZYPAT, but takes things up a notch with the option to carry out testing using either Battery or Mains Power.  This means you can perform a Functional Run Test (Leakage) on both 110V and 230V Appliances (110V does require a 100V supply).
It provides easy to use Automatic Test Sequences for CLASS I, CLASS 2 and Extension/Lead Tests via a single button press and is IT safe with low current continuity test and 250V insulation option.  Another standard feature is the ability to NULL your Test Leads.
It also has a large easy to read display with backlight option which changes colour to notify you of the overall test status (Green/Pass, Red/Fail).
At a glance
Carry out Battery or Mains Powered Testing (inc 110v - see below)
Record PAT Test Data on your iOS or Android Device
Download Data to your PC
Generate Professional PAT Reports and Certification
Manage and Edit your PAT Testing Data
Upload Data back to the KEWPAT App for Retesting or when you get a New Device

Based on the above, the EZYPAT PLUS would be the preferred option if you are looking for a non-downloading Manual PAT Tester offering a wider variety of Test Options.
This solution is designed to work with the Free KEWPAT App for iOS or Android Devices.  Simply record your Appliance Information and Test Data using KEWPAT, then import it into SimplyPats Manual Plus Edition Software for advanced Data Management, Reporting and Invoicing.
Upload of Data back to KEWPAT is also supported in case you do not have the data already saved in the App for Retesting, or populating a new device with existing data.


SimplyPats Manual Plus Edition Software for Windows PC.
This PAT Bundle includes SimplyPats Manual Plus Edition Data Management, Reporting and Certification Software for Windows PC, capable of Downloading and Importing data from KEWPAT.

Single User Licence.

What do you get...

KEWTECH EZYPAT PLUS PAT Tester

Extension Lead Adaptor

Earth Continuity Test Lead with Probe and Croc Clip

Mains Lead (to Power the Tester)

Carry Bag with strap

6 x AA Batteries (Non Rechargable)


SimplyPats Manual Plus Edition Data Management and Reporting Software (single Licence) with support for the Import and Export of Data to and from KEWPAT

 from

KEWPAT